Introduction
King Saud University is hosting a number of visiting scholars in order to contribute to the aspects of cooperation in joint research with them, delivering public lectures and scientific symposia. This comes in compliance with the strategic vision of King Saud University to sup­port the scientific research and building of co­operation and global partnership in the field of research development.
KSU seeks, through this program to enrich the academic and scientific community of the Uni­versity, through the participation of distinguished scientists various disciplines. The visiting professors program aims at enabling the distinguished researchers to spend time at King Saud University in order to enhance the skills of researchers and students within the col­leges and utilize the expertise of faculty mem­bers and their potential so as to create an attrac­tive environment for distinguished scientists of renowned world universities. In light of the foregoing, key specific criteria for the selection and attraction of visiting profes­sors may be as follows:
Outstanding academic, research and education­al achievements in addition to their potential to make significant contributions in research and development in hosting colleges. It is also im­portant that the host colleges benefit from the experience and skills possessed by those visit­ing professors by giving priority to new research and joint projects.
Vision
To be a leading academic program for scientific research exchange in the region.
Mission
To provide all necessary means for visiting professors to contribute to and exchange scientific research with KSU research groups and staff members.
Objectives
1.  To manage all affairs of visiting professors. 
2.  To assist visiting professors to fulfill their objectives in coordination
    with concerned university departments, institutes and research groups.
3.  To adopt systematic procedures to attract distinguished international
     visiting professors to participate in scientific research and 
     graduate programs. 
4.  To assist the university to achieve its strategic goals.
Contact Information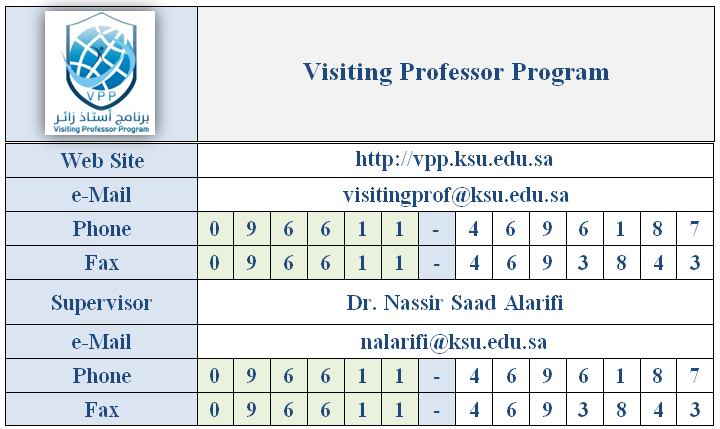 SEO keyword:
Visiting Professor Program