Introduction
The Scientific Council of King Saud University, since its inception in the academic year 1975, is considered one of the oldest scientific councils in Saudi universities. Since that date, which undertakes the required manner, there is still an urgent need for further development and excellence. The Scientific Council handles the many of the issues and tasks contained in the higher education and universities system (Article 28-31), below, is the most prominent tasks decision and recommendation in the decisions of appointment and promotion of academic and scientific publishing, sabbatical and attend scientific sessions and the use of professors part-time and other issues of relationship.  In addition, the nature of the work of the Council is summed up by greeted topics assigned to it from the faculties of the university system or deanships and units within and outside the university, and then forwarded to the Standing Committees of the Council for consideration and recommendation about them and then submitted to the Scientific Council.
Mission
To supervise the academic affairs of the faculty as well as the researches, studies and publication affairs.
Vision
The qualitative performance of the faculty members, in the academic and scientific researches aspects, which contributes in achieving the whole and global leadership and excellence of the University in building the knowledge society.
Objectives
1 - To improve the relevant rules and regulations to contribute in advancing the sober scientific research and increasing the level of its quantity and quality as well as spreading the excellence culture in the scientific performance.
2 - To enhance the partnership between the University and the different higher education sectors.
3 - To enhance the partnership between the University and the Society.
4 - To achieve the highest degree of clarity, transparency and accountability in all works of the council.
5 - To improve the internal efficiency and exercise the highest levels of quality in all works of the council.
6 - To use the information and communication techniques effectively to facilitate and speed up the transactions of the council and to ensure the high accuracy.
7 - To protect the rights of the faculty members relating to the works of the council.
8 - To build the databases relating to the works of the council.
Contact Information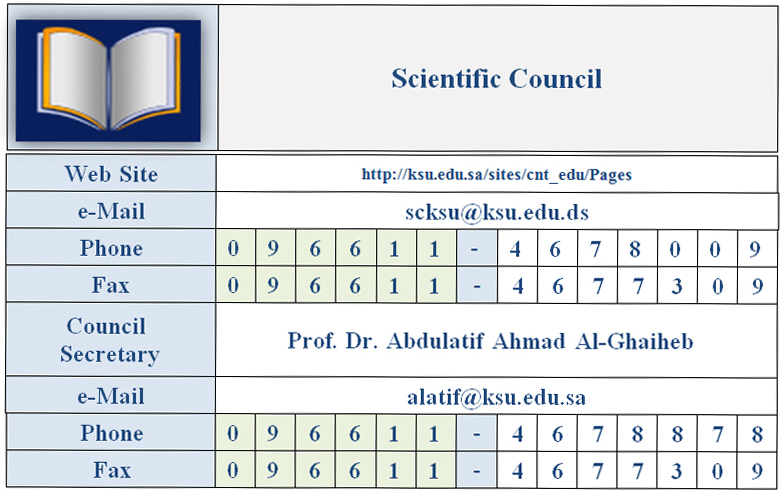 Organizational Chart